What's the most professional wire label printer ? SUPVAN SP7640
2019-12-13 09:01:21
Hits:123
There are many wire label printers in China market.What is the best wire label printer ? There is no best but better. It is worth trying SUPVAN MP7640 wire label printer which is an industrial grade product focusing on wide 6-64mm label printing.
In the electric power and telecommunication industrial, the different labels and cables with different colours and specifications are used to identify the confusing wires and switches.It is easy to mark the cables affixing the labels or wrapping the labels. the content of wire label should be print strictly and is clear, not easy to fade, blurred ,long lasting and durable.the selected wire label printer can achieve above requirement.
SUPVAN wire label printer MP7640 has professional editing software, there is no need to download drivers, a software can meet the content editing and system compatibility issues.It can be used on multiple operating system,such as Windows XP/7/8/10.
SUPVAN wire label printer MP7640 supports more complete functions. The function window is similar to the word operation interface, font, size, material selection, bar code,border, pictures, identifier, etc. The layout is more reasonable and the style setting is simple for flag labels, wrapping labels and table labels.
You can import Excel table files, which is more convenient to set up batch data. You can formulate the contents in the Excel table file,import the data in batches, and the software automatically generates label data.
What is the most professional wire label printer? SUPVAN MP7640 automatically completes label printing,improves the production efficiency of wire and cable identification, realizes the automated process and can easily print various types of wire and cable labels,facilities, equipment,panels etc. Save your time and materials,suitable for electronics, electrical appliances, communications and laboratory environment.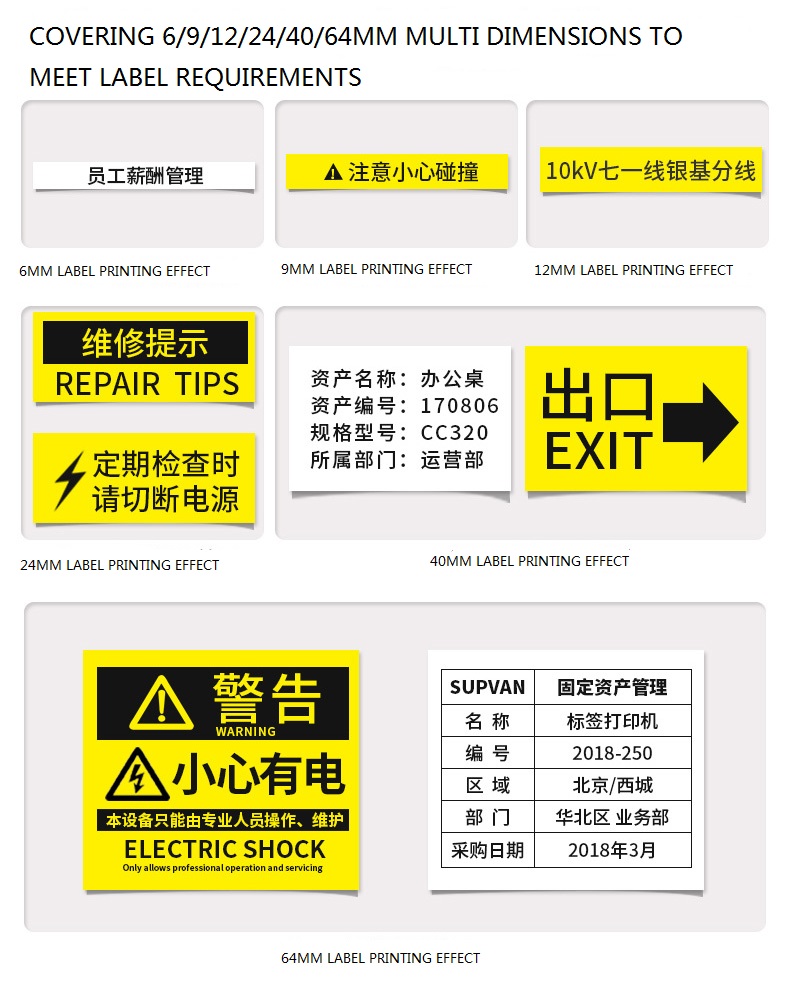 1. Batch printing:It can be imported into Excel with special editing software, it is easily to realized batch printing and improve work efficiency.
2. 64mm wide format printing: 6-64mm wide ;labels can be printed to meet your different needs.
3. High-quality printing: 300DPI high resolution ratio, it makes the writing clearer and achieves high-quality printing effect.
4. Printing speed is faster: Printing speed reaches 35mm/s. printing speed is faster and printing efficiency is higher.
5. Easy to operate:USB2.0 PC connectable.easy to operate and fast transfer.
6. Various types of consumables: general label, flag label,wrap label,laminated film labels, etc.
7. Label size can be cut at will,built-in automatic half cutter, cut at any size.
Supvan MP7640 wire label printer
SUPVAN MP7640 is currently the most professional wire label printer with industrial-grade configuration,automatic operation, batch input and output and is used for large industrial projects such as power and communication with high efficiency and durable labeling.
If you have interesting,please call me directly 0086-010-62968596-805
Please use it and enjoy it, we are happy to hear from you anytime. Feel free to get in touch by email at: sales@supvan.com