Manufacturer of ferrule printing machine--Supvan
2019-11-25 09:45:05
Hits:864
Supvan Technology (Beijing) Co.,Ltd, It is the first company that is devoted to developing and producing professional industrial identification products in Chinese market.We have the largest share of the Chinese market for ferrule printing machine.
  We offer different model printers to meet customer's various requirements.today we will introduce our top-level ferrule printing machine--TP80E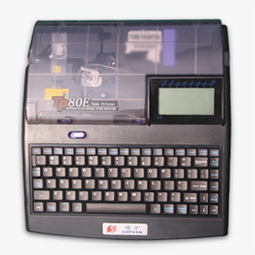 Main features as follow,
  ● High-speed marking
  Ferrule printing machine TP80E has a new designed thermal head with an enhanced feeding and half-cutting system that provides you with marking speed at least 25mm/second.
  Tube:40pcs/min,20mm/pcs.
  Label:40pcs/min,20mm/pcs.
  ● imum printing length
  TUBE: 20m, TAPE: 16m.
  Ferrule printing machine has 85keys standard keyboard.
  English letters and symbols are input.
  White back-lit LCD display; Single and double column display,5 lines editing is possible.
  ● Large memory storage
  Ferrule printing machine has Internal memory: 40,000, Characters 100,000 ; built in large memory storage.
  100Files ,200segments/File, (12,000,000 characters imum).
  Offer you external memory,4G SD card and card reader.
  ● Easy access to PC
  Ferrule printing machine TP80E features an USB port for direct connection with Windows PC as well as a memory slot for off-the-line data exchange with PC by 'LETATWIN PC EDITOR'.
  TP80E can be connected to any computer. It is compatible with Windows XP/Win 7/Win 8 operating system and can realize independent operations on the work site. It can be used as a dual-purpose machine.
  ● Convenient to carry
  Ferrule printing machine TP80E dimension (L*W*H)320*280*100mm,gross weight 3.2KG.
  If you are interested in SUPVAN English version ferrule printing machine, please feel free to contact us. we are looking forward to your specific inquires.