What's a good household label printer? You will love it at first sight
2020-09-07 16:08:25
Hits:547
  What's a good household label printer? You will love SUPVAN household label printer T10 at first sight. It has a cute shape, a fleshy touch, a large number of cartoon patterns, colorful backgrounds and pure color adhesive labels and stickers, offering you a neat and orderly sense of control to your life. Whole house storage, memo, handicraft DIY... everything follows your heart.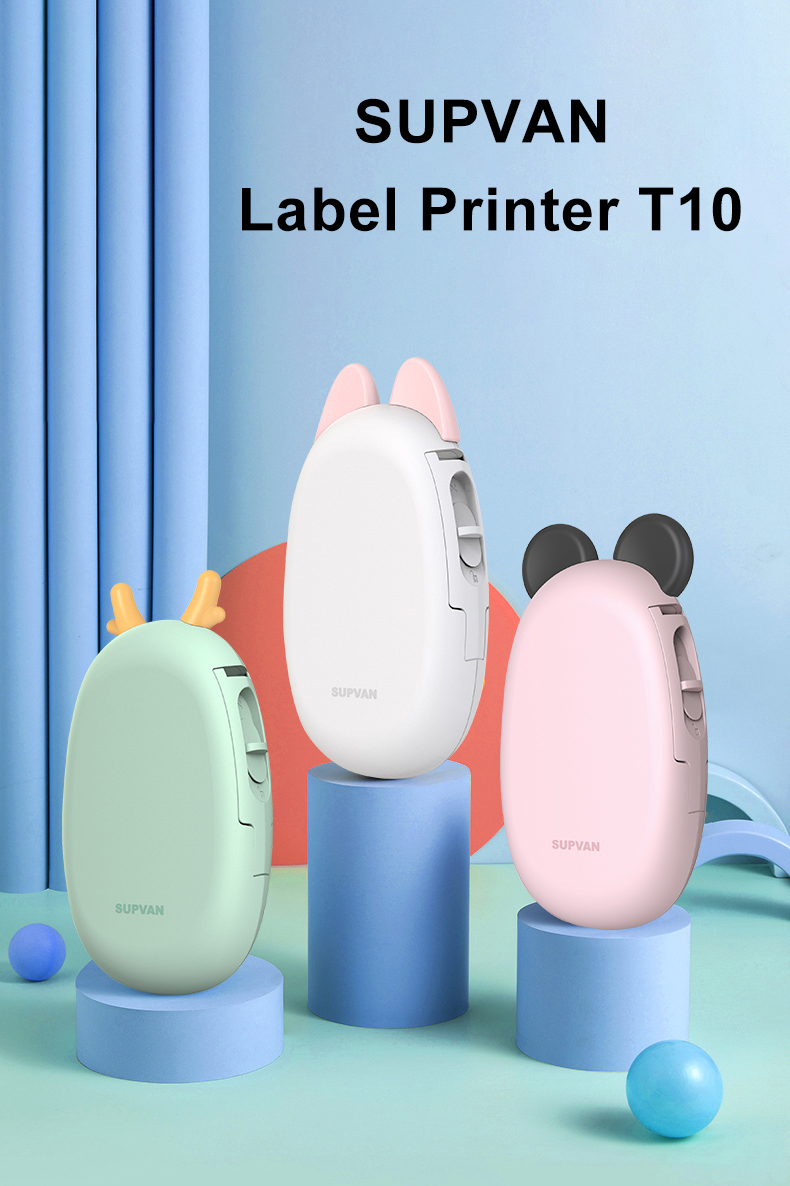 SUPVAN household label printer T10 has four colors for you option, light pink, light blue, white, black. Mickey Mouse ears, elk ears and kitten ears take turns to show cute. The size is the same with a soap, smaller than a mobile phone, bare weight is less than 200g, it is easy to take in your pocket.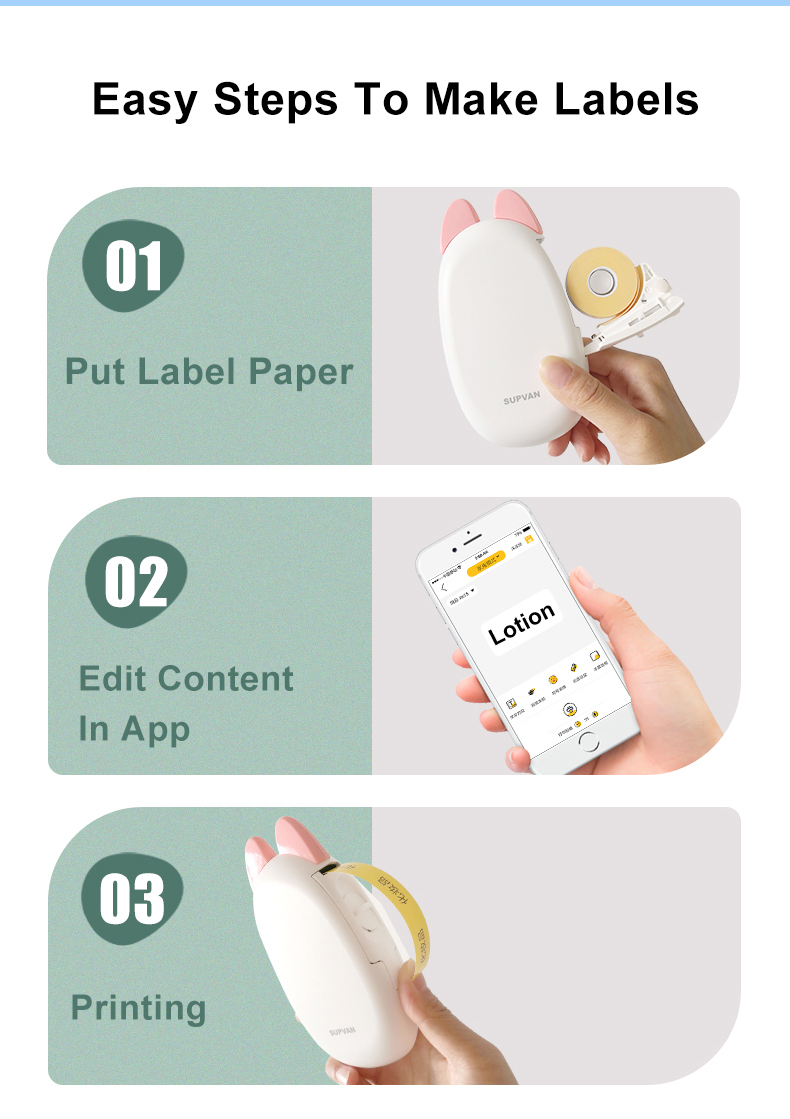 SUPVAN T10 household label printer is Bluetooth connection, mobile APP has multi-function, rich editable content: barcode, cartoon, frame, two-dimensional code...24 languages: Korean, Japanese, complicated characters...Massive emoticons, borders, etc. You can print at will, home storage, daily management, easy to mark. You will say goodbye to confusion. It is a new favorite of storage lovers.
  SUPVAN self-adhesive label stickers are made with special heat-sensitive material, no ink, waterproof and oil-proof, and leave no trace when peeled off. SUPVAN household label printer manufacturer provides 5 kinds of pure color labels: yellow, green, blue, pink and purple. Various label content could be printed continuously; The width of label paper are 12mm and 15mm, with independent and complete label pattern design, beautiful and clear, used as name label, toiletries mark, clothing label, kitchen storage etc.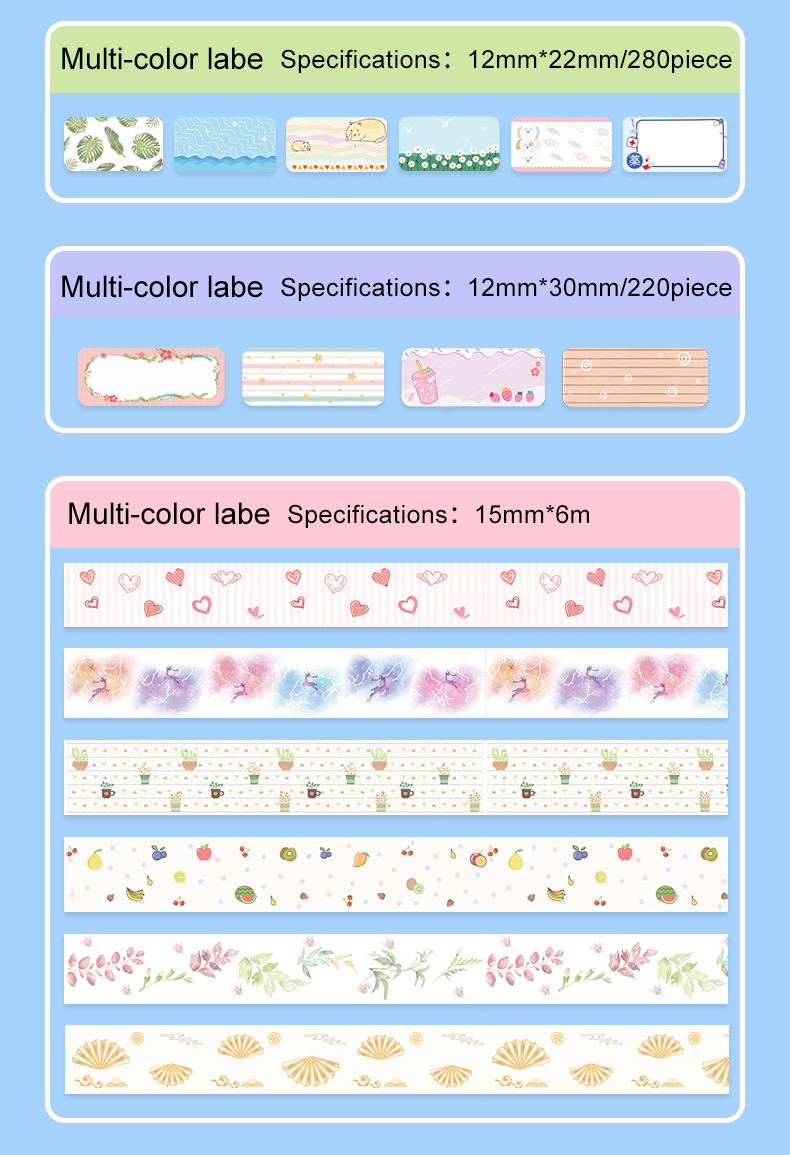 There are also a variety of 15mm wide color label papers for your option, lovely cartoon label paper, twelve constellation label paper, plant cartoon label paper, fruit label paper, the leaf of plant label paper, the Forbidden City pattern label paper, etc. The household label printer T10 supports continuous printing.
  Stored in the whole house, there is its figure everywhere, made into a pattern label, and affixed to the switch, you will not miss the switch when you enter the room;
  Make a date label and stick it on the food storage box or packaging bottles, you will not worry about expiration or deterioration;
  Make a text labels and past on imported cosmetics, you can say goodbye to the confusion;
  Make baby name tags, and stick them on school bags, stationery boxes, pencils, water cups and other personal items. You will not be afraid of misuse or loss.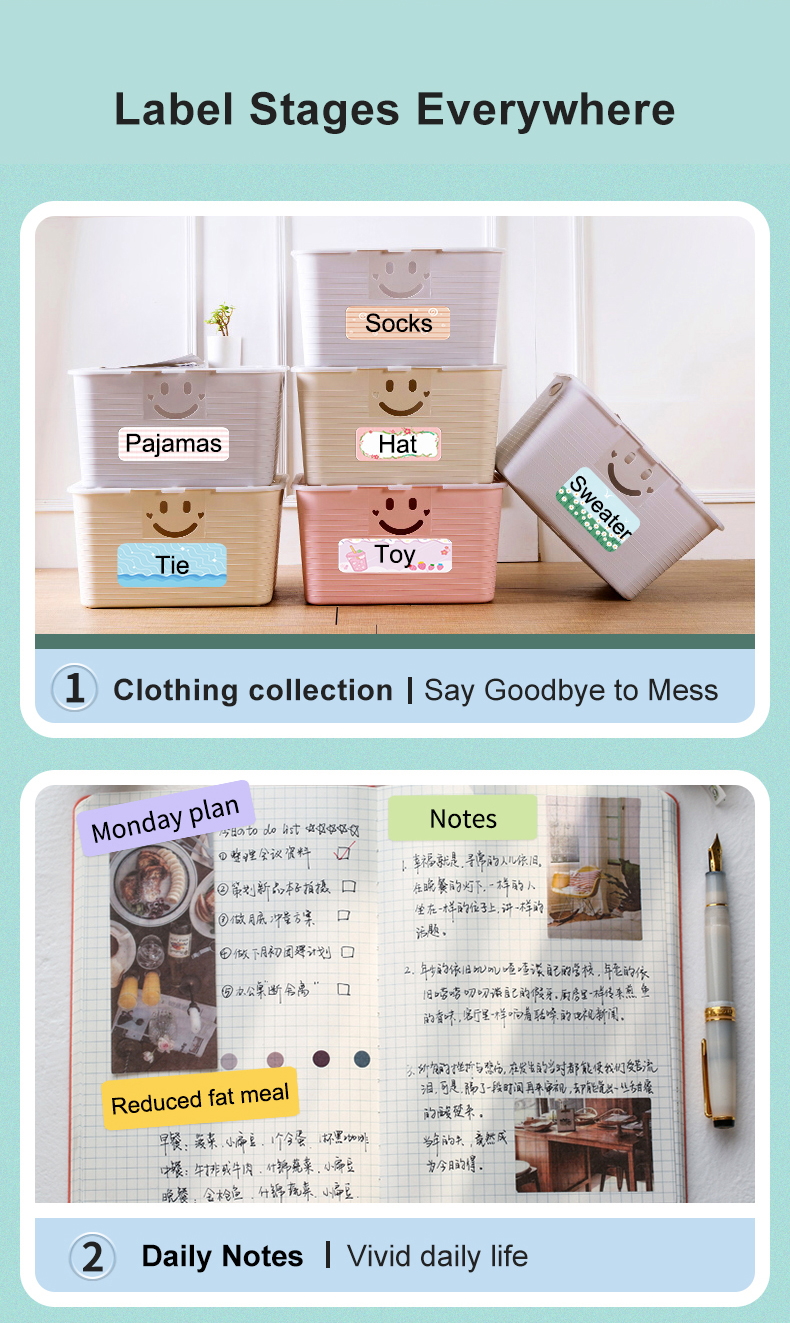 With the household label printer T10 at home, you will find everything is in order. For details about household label printer please inquire SUPVAN at: sales@supvan.com and SUPVAN customer service hotline: 0086-010-62968596-838.