If you need plate printer, SUPVAN SP650E is your best choice
2020-05-18 10:01:07
Hits:544
  If you want to buy a plate printer, you would like to choose a professional one. SUPVAN SP650E automatic plate printer uses advanced thermal transfer technology, continuous automatic card feeding mechanism, and high-precision print head ensure high-definition printing effect and high-speed printing efficiency. SUPVAN plate printer SP650E can fully meet the large-scale printing needs of large projects in the power and communications industries.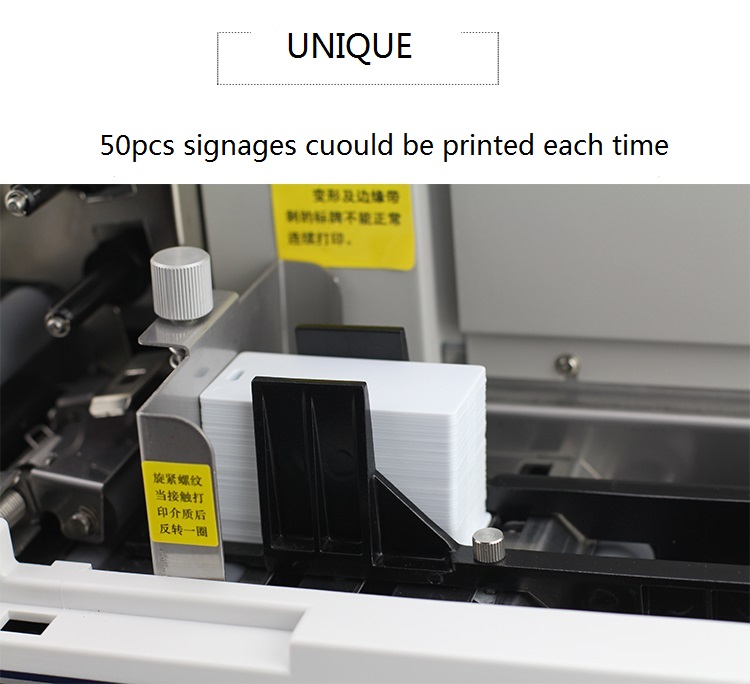 1.Easy to operate, humanized design ,English interface, one-touch operation, blue-backlight LCD design, keep track of printing progress at any time.
  2.Automatic and continuous feeding and printing, saving labor, can put 50 plates at a time (thickness of each plate is 1mm). The original automatic and continuous plate feeding technology, the printing process is fully automated, saving labor, the plate feeding box can accommodate the thickness of all the plates less than 50mm, can accommodate up to 250pieces(each thickness is 0.2mm) if the thickness of each sheet is 1mm( the most commonly used), you can put 50 pieces at a time.
  3. High printing efficiency: the automatic and continuous feeding technology greatly saves the feeding time and improves the overall printing efficiency. If 50 pcs plates (32mm*68mm labels) are printed, it can save about half time than Canon M-300/C-450P plate printer.
  4.Printing effect is clear, SUPVAN automatic continuous plate printer SP650E can print PVC plates and labels, the printing effect is clear.
  5.Automatic cleaning function: SUPVAN plate printer doesn't need to replace the cleaning roller.after installing the cleaning belt, press the cleaning button to automatically clean the removable cleaning roller directly. And it is convenient to manually clean.

  Equipped with SUPVAN professional editing software, the layout setting of plate content is easier.
  1. Support Microsoft Office and Kingsoft Office Excel import, multi-page documents can be generated at once.
  2. Increase the production and printing of QR code function.
  3. Modify the position of function buttons and function modules to make the layout more reasonable.
  4. Powerful editing function: Text, serial number, graphics, barcode, etc.
  Sincere there are so many different models of label makers on the market, you need knowledge and information that will help you understand these convenient pieces of equipment. It is our goal that you get right plate printer after seeing our reviews and buyers guide.