LCP8150 Sign printer and Label Maker:Make Custom Labels With Ease
2019-11-01 17:02:05
Hits:357
It is necessary to use eye-catching safety warning signs to improve people's safety awareness in factory, manufacturing, public transportation and other fields. The LCP8150 sign printer and label maker can be used to customize color width labels, the thermal transfer effect is clear and durable.

SUPVAN LCP8150 sign printer and label maker has good viscosity,not easy to fall off or fade. This sign printer and label maker can help you to improve the production management site, improve production efficiency,beautify the workplace, standardize internal management and so on. Board application and profession production can reduce your costs, reduce consumption of manpower, material and financial resources, there are many galleries and examples in line with international standards in SUPVAN professional editing software. Let you choose freely and infinite in creative.
SUPVAN is a professional manufacturer of industrial marking equipment in China, focusing on the R&D,design,production and sales of marking products with thermal transfer technology as core.LCP8150 Sign printer and label maker is widely used in integrated wiring, secondary maintenance, equipment, engineering installation, on-site and safety management logo production.With the development of standardization process in various industries in China, the demand for high-quality and high-efficiency label production in various industries is growing all the time. Supvan LCP8150 sign printer and label maker is specially launched to meet international market demand.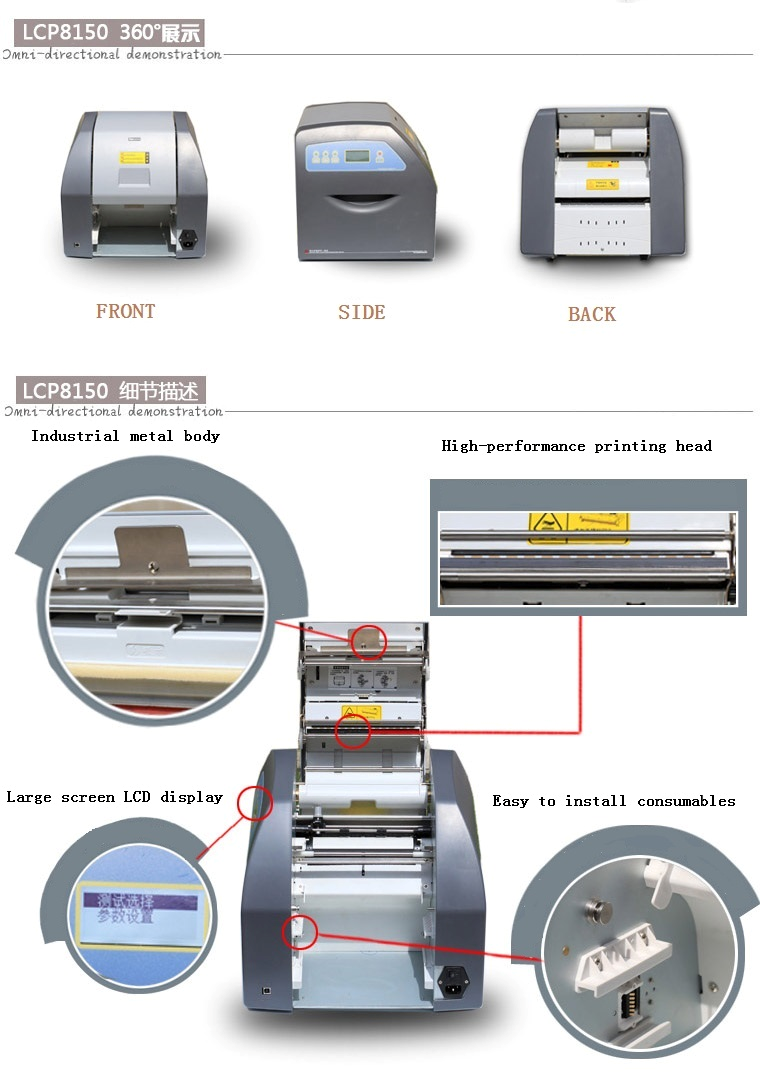 There are some functions and features for Supvan LCP8150 sign printer and label maker,
  1.Printing, engraving, auto full-cut, a variety of shapes, a variety of sizes, a variety of colors of labels, one machine can complete.
  2.Thermal printing, 300DPI high resolution ratio, perfect printing effect, clear and durable.
  3.Provide high quality self-adhesive labels and ribbons in multiple colors.
  4.Single label could be printed from 10mm*10mm to 160mm*1000mm.
  5.Splicing printing 750mm*1000mm label in imum width.
  6.It is convenient and easy to design labels using the special LABEL EDITOR editing software.
  7.Pictures , text, tables, bar-codes,combine freely and free to edit.
  8.Built-in thousands of security, prompts, warning signs and a number of industry-wide graphic logos,free to choose.
  9.It is easy to achieve visual management.
  10.The data of Excel files could be imported, generate multiple labels at a time and achieve rapid production of mass labels.
The LCP8150 sign and label printer is an easy-to-use, versatile printer that can print signs and labels up to 6" wide. This industrial label printer can print on hundreds of different labels, tapes, tags and materials.
Supvan LCP8150 sign printer and label maker is free to customize wide-format labels of various colors, specifications and shapes,has excellent thermal transfer effect.It is widely used in safety warning signs for functional safety facilities in factories, manufacturing,pipeline identification, maps, buses and so on.Printing your own customized labels allows you to meet your labeling needs in seconds instead of days or hours waiting for a third-party label/sign company and will save you money over time. Label packages, equipment, danger/hazard labels, entrances, exits, and many more with your own custom text and symbols to meet your specific needs.

If you want to know more information about LCP8150 sign printer and label maker, please call me directly 0086-010-62968596-805 or write email to me, sales@supvan.com